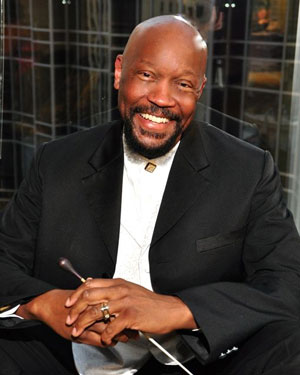 Thomas Douglas
---
Thomas W. Douglas has served as Music Director of the Newton Mid-Kansas Symphony Orchestra since 2011. He has conducted over two-hundred symphonic, opera, oratorio, and music theater productions, is a faculty member of the Carnegie Mellon University Music and Drama Schools in Pittsburgh, PA, and serves as Artistic Director and Conductor of the Pittsburgh Bach Choir.
Mr. Douglas has been guest conductor of the Wichita Symphony Orchestra, the Edgewood (PA) Symphony, the Pittsburgh (PA) Philharmonic, Dallas Symphony Chorus, and Chorus Master of the Canton (OH) Symphony. Among his other conducting highlights are Webber's Phantom of the Opera in Basel, Switzerland; numerous premieres in Pittsburgh, including Bernstein's Mass, the classic silent films The Passion of Joan of Arc, David Chesky's The Agnostic, and Camina Burana Africana; and the world premiere of Maury Yeston's fully orchestrated December Songs with NMKSO in October of 2012.
Mr. Douglas has been a vocal soloist with the River City Brass Band, the Pittsburgh Symphony and with Joe "Handyman" Negri's Mass of Hope, and works frequently with Pittsburgh's City Theater and Opera Theatre. Locally, he serves as longtime Music Director for Music Theatre of Wichita and has been a guest conductor with the Wichita Symphony Orchestra.